Vicumpriya Perera Lyrics 08 (Indikalaa Pem Medurak) - Audio CD
The 8th sinhala lyrical composition album of Vicumpriya Perera with 16 original songs, "Indikalaa Pem Medurak" was released in 2015. All tunes for the songs are composed by Ananda Waidasekera. The album features renowned and popular vocalists Devananda Waidyasekera, Chadrakumar Kandanarachchi, Walter Fernando, Thyaga N Edward, Athula Sri Gamage, Ajith Ariyarathna, Nalin Jayawardena, Nimanthi Chamodini, Srilal Amarajeeva Fonseka and Praneeth Shiwanka Perera. One song featured in the album, "Kulageyin Kulageyata" is written with Bhadraji Mahinda Jayatilaka. CD Cover design by Janaka Malnuthurama. Recorded at the studio of Ananda Waidyasekera, Gampaha, Sri Lanka and the CD production is by Lanka Heritage, LLC.
You can listen to all songs of this compact disc on sinhalajukebox.org.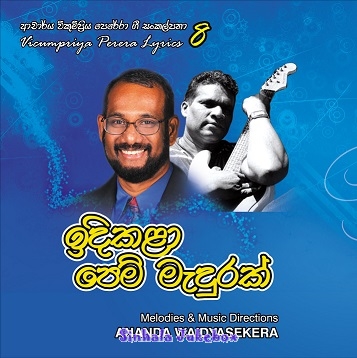 Indikalaa Pem Medurak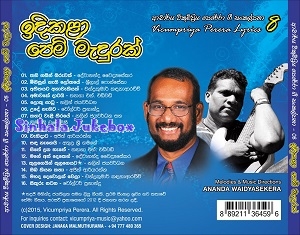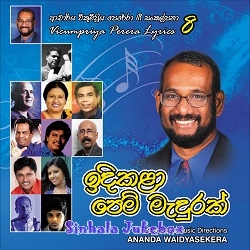 <! Start Album here>
Indikalaa Pem Medurak - Various Artists
<! end album here>