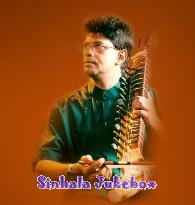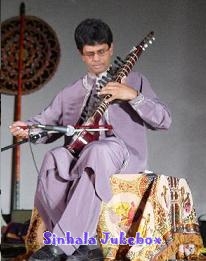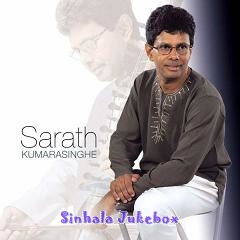 We are featuring 16 Esraj Instrumental tracks by
Sarath Kumarasinghe
from his newest CD
Sonduru Sathsara 2
and another 16 Esraj Instrumentals from his previous CD
Sonduru Sathsara 1
.
Sonduru Sathsara 1 (Immortal Melodies) was the first ever Esraj Instrumental CD released in Sri Lanka.
The CD is an instrumental collection of 16 Sinhala and Hindi songs played by Sarath Kumarasinghe, an accomplished young musician.
The collection includes eight Hindi songs selected from popular films released in the sixties and seventies sung by immortals like Mohamed Rafi, Latha Mangeskar, Mukhesh and Manna Dey.
Sinhala songs are a mix of goldies of the sixties, seventies and popular songs of the nineties, by the young generation. The original singers include Pandit W.D.Amaradeva, Latha Walpola, Dayaratne Ranatunga, Nanda Malini, T.M.Jayaratne, H.R.Jothipala, Milton Mallawarachchi, Sunil Edirisinghe & Deepika Priyadharshini Peiris.
Sonduru Sathsara 2 (Immortal Melodies) adds another 16 classics to the list.
Please go down to see the listing and to listen to these songs online. Both CDs are available for online purchase as well.
Sarath is one of the foremost classical Esraj players in Sri Lanka, with a keen eye on improvisation. He started playing the Esraj when he was of 12 years while in Thurstan College, Colombo.
Under the guidance of Visharad H.de S Jayasekera, he traveled to the Bhatkande College of Music, Lucknow, India and nurtured his skills in classical vocal and instrumental music.
Sarath has participated in numerous recordings and performed on radio, television and stage performances on classical and light music. Sarath plays his Esraj in Dr.Lester James Pieris' latest film, "Wekande Walawwa" where Pradeep Ratnayake, the young sitar maestro directed the musical score.
His first solo Esraj instrumental recording of six sinhala and hindi songs was telecasted by the Independent Television Network of Sri Lanka (ITN) in the year 2000, which inspired the light music listeners and the musicians in the country alike due to his soothing style of play and the uniqueness of the tone of this hitherto classical instrument.
Interested in Buying Sonduru Sathsara CDs: Click below to buy using paypal securely. The Cost is US$10, including shipping and handling per CD (either Sonduru Sathsara 01 or Sonduru Sathsara 02).
Sarath is presently living in Toronto, Canada. He welcomes views via email at s_kumarasinghe@hotmail.com. You may also visit his website http://www.sathsara.com.
Buy Music and support our inspiring Artists !!!
We welcome your feedback.
Sonduru Sathsara 02 by Sarath Kumarasinghe
<! end album here>
Sonduru Sathsara 01 by Sarath Kumarasinghe
<! end album here>